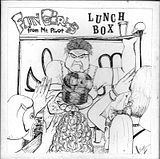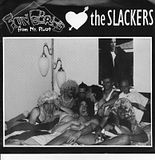 Lunch Box

[House O'Pain, 1995]
Split with The Slackers [House O'Pain, 1996]
Nashville's Fun Girls from Mt. Pilot hold a special place in my heart, as they're the band that sucked me into this whole damn subculture. I happened upon them at random tagging along with some friends at a show Huntsville's Tip Top Cafe sometime in '94 or so and they blew my poor sixteen-year-old mind. Four grown men in a ridiculous, half asses attempt at cross dressing, playing bone crunching punk rock without an ounce of seriousness to be found. Their frontman sometimes pretended to be (and later actually became) a professional wrestler, they had songs about Billy D. Williams and all kinds of other random shit. It was pretty prime stuff for a teenage boy, and teenage boys they got. Their shows were fucking packed with slam dancing, pubescent punkers trying to break each other's necks in the pit. Up until that point, it was probably the most fun I ever had in my life.
As far as their history goes, I don't know much. I know some of the singer Cat and guitarist Donnie were originally in a band called
Rednecks in Pain
, and their former drummer Chris has played in bands like
Asschapel
and
Booby Hatch
(also with Donnie on guitar) since. But to aid those thirsty for more trivia, I found this online...
A band from the same mid 1990's Nashville hardcore scene that produced Salida, Spider Virus, and Martian Tourist Trap. This group became known for their absoutely legendary live shows. At the high school that I attended, anyone who had actually seen one of these shows was revered and asked awed questions by his or her peers. On at least one occasion, their male drummer played a show clothed only in a Catholic schoolgirl dress made entirely out of raw bacon. The band often threw bottle rockets into the audience and once boiled a guitar onstage. Like much of the rest of the hardcore scene from that time period, though, this band eventually fell into a pop culture black hole, never to be heard from again.



The first record here is part of the "Lunch Box." A box set that contains the 7" you get here, as well as a second, completely random 45 they probably got from a thrift store (mine is "Listen, My Love" by The Highlights). It also came with a little xeroxed booklet, a napkin, a spork, and a voucher for some free Fun Girls trading cards.
The second is a split with Huntsville's The Slackers. We'll get into
The Slackers
later, but it seems by the time this came out, the Fun Girls weren't playing around Huntsville so much anymore - or their popularity had begun to wane. Either way, it's good stuff.
I really, really, really wish I could include their first 7"
Hi Doll!
with this. Way back when I bought it, they gave you the option of getting it on cassette. Being that I was just going to dub the record onto a tape and listen to it in my car anyway, I thought that seemed like the sensible option. Apparently, I wasn't thinking much about my future music blog in 1995.
Maybe it was their Music City roots, but Nashville punk bands seemed to pour a little more quality into their recordings and their musicianship was always a bit tighter. Despite my deeply rooted punk beginnings, having a Bachelor's degree in audio engineering often plays a part in causing me to cringe when i hear some of these old records... the cheap microphones, no reverb, no compression, bad mixes. But in that respect, these Fun Girls recordings are definitely a nice break.