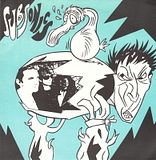 I first heard of this record after reading a review in Alternative Press when I was in the 9th grade. I bought it a few months later when I spotted it in Sunburst Records. Side A is a jangly retro rock n roll jam that sounds something like if VU-era Lou Reed was a little more into meth than heroin. Side B is a cover of Richard Hell's "Love Comes in Spurts" and doesn't sound too far removed from the original.
As for the history of the band, I don't know much. Singer/guitarist Clay Reed and
drummer Buffi Aguero have been the mainstays of the band with revolving bass players throughout the years. They've got something like 5 full lengths, and according to their Myspace, they're still playing around. So if you dig this, I strongly encourage you to check out the rest of their catalog, most especially the CD
Follow Me Down
.