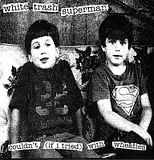 White Trash Superman

- Couldn't If I Tried b/w Wheaties (We Did It Ourselves Records, 1994?)
I don't know a whole lot about White Trash Superman besides the fact that I love this record, their singer/guitarist Jayson went on to form The Grumpies (who'll be covered later on), and they came from the college town of Starkville, Mississippi.
I only saw WTS once sometime in the summer of 1995. They played a pizza shop called J. Gregry's (Jack, didn't you guys play this show?) and I remember then being not quite simple, fast, or sloppy to be what most in Huntsville at that would consider "punk rock". I recall my friend Trey saying something to me in that respect and saying something back at him like "Yeah... I think this is like... 'indie rock'"
One night, probably more than a year later, I was cleaning out my car to find someone (still not sure who, but if you want it back, sorry!) left this in my back seat. Side A sounds like Dinosaur Jr. on a pop punk binge. It's a song that beckons to be listened to repeatedly and will remain in rotation inside your head for days to come. Side B starts out slow, sounding a hell of a lot like Pavement before picking up the pace to morph into something more along the lines of Superchunk.
With a little research, I was able to snag their other 7" "Punk Rock Hero" (which is in this in the file you're downloading) off their Myspace where you can also get these tracks. Although, i recommend you download them here, as i've got them all tagged with cover art and all.