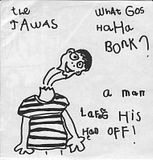 This seems as good a time as any to mention that since I am from Huntsville, the majority of the content on this site will revolve around the North Alabama punk scene circa years 1993 - 1998. It's the one I grew up in, and will always remain nearest and dearest to my heart. That being said, it was rather a challenge deciding who to spotlight first. So again, I just went with what I felt like listening to at the moment, and that ended up being The Jawas.
The Jawas were very much an anomaly in Huntsville at the time. While everyone else stuck with 3 chord punk rock, The Jawas were sporting heavy metal influences, playing jangly weird chords and in retrospect were even a bit experimental considering the Huntsville scene was hardly one enriched with a great deal of variety. Oh, and people loved the shit out of them. A Jawas show was always packed. Drummer Matt Bakula (The Peeps, 3D's) was prone to wearing a giant bull skull with horns over his head while playing drums, shirtless, with a pentagram painted on his chest. The kids ate it up. This seems like it was one of the first releases on Huntsville's Nation of Kids! label in what I'm thinking was probably 1994. I was in the 11th grade, and it seemed like every punk inclined teenager I knew was rocking this shit in their car on the way to school. Bakula's little brother Patrick did the cover art who was then like 5 or something. He's all grown up now, had a band called Circuit Pop (who is brother drummed for), now plays in the Dastardly Do-Nothings, and makes me feel pretty fucking old.
As far as the tunes themselves, listening now, it's a little hard to describe. These guys were blending thrash metal ("Bionic Bitch") with hardcore punk ("Mocking U") and smoothing it all out with some catchy hooks that had everyone singing along. It's a little punk, a little metal, but definitely not punk-metal. But then, when I think of punk-metal, I think of like early Goo Goo Dolls and all that awful shit Roadrunner records was putting out in the late 80's. Some of the quieter, janglier moments have always reminded me of Sonic Youth or early Nirvana. Most of all, I think this record is a shining example of what can happen when a bunch of kids haven't yet learned the "rules" about playing music and writing songs yet - henceforth, they've got no blueprint to follow, nor do they have to try to hard to venture into left field. A lot of the ideas on here still sound brilliant to me. For example the extended drum stick interludes between parts in "Master Plan." It's great for the same reason a lot of these old punk records are great: It's unreasonably angry, paranoid and overtly nihilistic in that blissfully sheltered way that only high schoolers can be, but also pretty goofy at times and never forgets to be fun.
They put out a second 7" called "A Guy Cut in Half," but for whatever reason, I never bought it. As I recall correctly, their singer/guitarist Donnie (forget his last name - and all my Google searches just came up with message board discussions about Star Wars) moved to Florence and got heavy into Hardcore. Their other guitarist Mark Massey I would see around Huntsville for years to come, but never really saw him play with anyone else. Drummer Matt Bakula later fronted the ska/punk Huntsville super group The Peeps, and surfy garage band The 3D's (which included myself on guitar). He's now got a band called The Counter Clockwise and plays washtub bass in The Pine Hill Haints who just put something out on K Records. Bassist Andrew Seward is probably the most recognizable of the 4 as he's been playing with major-label political punks Against Me! for the last 5 or 6 years.